Every website visitor interacts with your site in different ways. Each user has their own browsing habits, goals, reading patterns, likes, dislikes, interests and styles. Some visitors want to stay informed about every move you make, while others want to simply support your cause, get information and move on.
Engaging users in ways that align with your goals is difficult, to say the least. But in this article, we will look at one of Journity's features that can help – the Engagement Score.

What is the Engagement Score?
In short, the engagement score puts a numeric value on how engaged individual visitors are with your site's content.
How many blog articles have they read?

How long do they spend on each page?

How frequently do they visit?

Are they listening to the internet radio on your site or do they just check the news and leave?
Questions like these are considered and accumulated into a single number that we call the "Engagement Score". Every site will have different patterns of flow and content.
A radio station, for example, will likely have people listening to a single radio broadcast on a single page for a much longer period of time than an outreach mission would. Another example is how blogs draw visitors into long form articles, while pages dedicated to short updates present a quick "at-a-glance" view – determining the length of time visitors spend on specific pages.
A person's engagement with your site also changes over time. The engagement score gives you a method of connecting with visitors at a specific level of engagement, whether the visitor is new or a veteran of your cause.

How is this Different from a Marketing Funnel?
You may be thinking…"I already have everything covered with a traditional marketing funnel: Drive audience to content, sign up for an email newsletter, give users a gift for donating, and finally, ask for a recurring donation". While traditional funnels deepen users' engagement by getting them to take specific actions, they don't consider how long users have been engaging with your content, how much they read or how much time they've invested into your organization's cause.
A great example of this is a visitor who may not want to sign up for your email newsletter because they're already bombarded with email, but they are ready to make a donation, if prompted. Combining the traditional marketing funnel with an engagement score can be extremely powerful.
With Journity, we've integrated the traditional marketing funnel concept with an engagement score to create an "engagement funnel". Engagement funnels present actions based on how engaged visitors are on your site.  The most engaged visitors on your site might be ready to sign up for a monthly donation, even though they haven't signed up for an email newsletter yet.
Instead of forcing users to take a series of steps, Journity meets users where they are on your site with what we like to call "waypoints". Waypoints are personalized messages to individual users or audience segments that contain a call to action that aligns with your organizational goals.
Setting up an Engagement Funnel
All campaigns and waypoints are listed on the Campaigns page in order of priority. When a user visits your site, the first waypoint that he/she will see, will be the waypoint that sits at the highest priority level for audience filters that match the individual profile.
Setting up an engagement funnel is as simple as setting up a set of waypoints with progressively increasing engagement scores as you move up the funnel. Because priority is descending, you just make it upside down. Let's look at an example:

In this example, we have four waypoints. The highest priority waypoint here is 'Monthly Donor', will only display to the most engaged users. If a visitor doesn't have an engagement score that matches that audience filter, they'd move to the next one, and so on. If he/she is a brand new user, in this example, the first waypoint they see would be the 'Free EBook' offer.
In the example above, the 'Monthly Donor' waypoint may have an engagement score for the top 5% of users, 'Donation' for the top 30%, 'Email Subscription' for top 60%, leaving the 'Ebook' Waypoint with no engagement score requirement. This way, you're not asking your most engaged visitors to sign up for an email subscription, nor are you asking brand new visitors to become a monthly donor.
One many benefits of using engagement funnels is that your website visitors are less likely to experience burnout and leave your site. As a visitor becomes more engaged, they naturally fall into the next place in the funnel, meaning that they progress to the next steps at their own pace
The final piece of the puzzle is setting up an engagement score filter on the Audience Insights page. Below is an example of the Audience Breakdown widget – it helps you determine which engagement scores to include or exclude from your waypoint.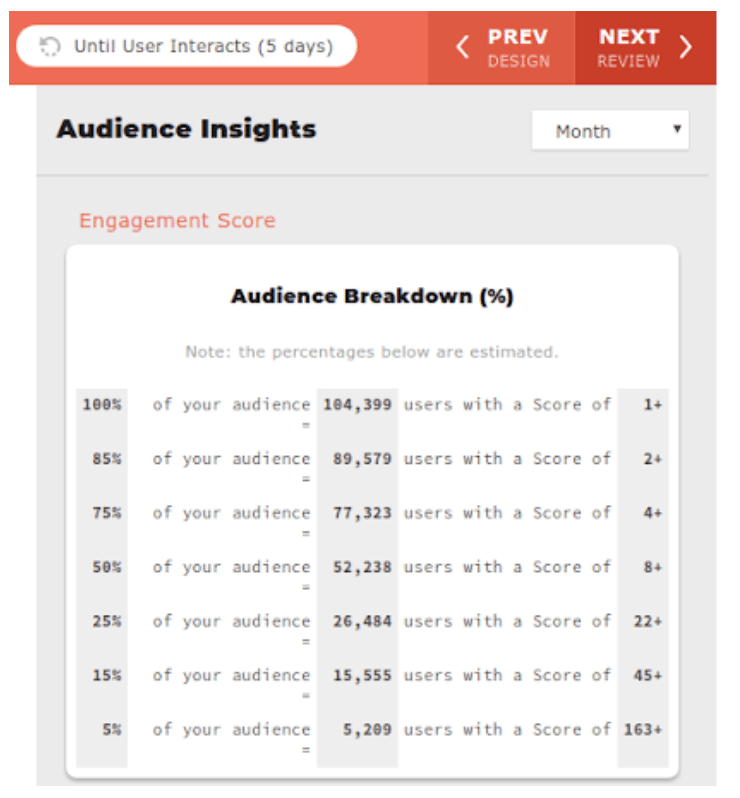 In this example, look at the Audience Breakdown to target the top 15% of visitors to your site. It's as simple as looking for the score that matches 15%. In this case, 15% of the audience has an engagement score of >45, so you would set the engagement score filter to "Greater than or equal to 45." If you want a number between 5% and 15%, just choose a number somewhere in between.
For the next waypoint in the engagement funnel, you will need to set the engagement score filter to include more visitors than the higher tiers. In the example above, if you want to target 50% of your audience, choose "Greater than or equal to 8." Again, the number 8 is being generated by the Audience Breakdown widget and describes the engagement score of the top 50% of your website visitors.
Conclusion
That's all there is to making your first engagement funnel! After your first few, you'll be able to create funnels in minutes. They are extremely flexible and can be used to present a different message to your more engaged visitors than to your less engaged visitors, while still aiming for the same goal, like a Christmas Giving Campaign.
In a future article, we'll look at how to set up a classic funnel, and how to combine it with the engagement funnel. As always, we'd love to hear from you. Give our Customer Success Manager, Claire Strand, a shout if you need help.